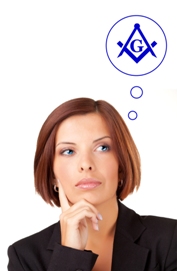 Are you a Masonic wife, partner, significant-other or girlfriend?
Do you have questions about Freemasonry, such as:
Why won't my husband share Masonic secrets with me?
How does Freemasonry make good men, better? Better at what?
What really goes on in the closed lodge room?
Why was he given a white, leathern apron when he became a Master Mason? What is its actual purpose?
Will he really have to ride a goat?
Why did he buy his Masonic ring?
Is ritual, evil?
Or,…are you a Freemason?
Do you have a question that your wife, significant-other, partner or girlfriend has asked you (or is currently asking you) about Freemasonry?
Use the form, left, to ask your question.
Freemasonry has many facets, some of which can be a little hard to understand, so it is only natural that spouses have questions about Freemasonry. 
So,…this is the place to ask them.
You will receive an answer to your question directly to your email address. Your privacy is respected and you will not be spammed in any way.
It's easy to do. Just fill out the form, left.
---