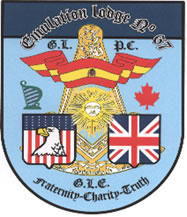 The Duke of Wharton, Grand Master of the Grand Lodge of England (1722-1723) set up the first Masonic Lodge in Spain in 1728. It was the French Arms Lodge No.50 (the first lodge on foreign soil registered in the records of the Grand Lodge of England) and was located in San Bernardo Street, Madrid. It was consequently the first English speaking lodge in Spain.
He died in 1731 at the age of 33 and was buried in a Monastery called La Basilica de Poblet in the Catalonian Province of Tarragona, a traditional resting place for Catalonian nobility. However, on the instructions of General Francisco Franco the Duke´s remains were removed from the Basilica and buried in a Public Cemetery because of his Masonic antecedents.
During General Franco´s dictatorship Regular Freemasonry all but disappeared. It was not generally known that the American Chief of Staff at the time of the American Bases being set up in Spain, Brigadier General Caldera (a Spanish sounding name!) was a prominent Freemason. The General served in Spain from 1961 to 1963 and personally obtained permission from Franco to set up Masonic Lodges in the American Bases. The only condition being that no Spaniard could join them. Liberty Lodge No. 70 and the George Washington Lodge met 30 kilometers from Madrid in the Torrejon airbase.
Some years before the bases in Spain, France and the United States had decided that American planes should be located in Morocco. A base was constructed, the Nouasseur Base. There were a large number of masons among the workers and the military staff so a lodge was consecrated in a restaurant in Casablanca, Concorde Nº 42, in 1953.The restaurant quickly turned out to be too small so the Commander of the base, who happened to be a mason himself, offered a place for the meetings. Arthur T Weed, (called Pop Weed) an American who had helped to construct the base, joined this lodge. After some time he had to go to the U.S. for a medical checkup and then returned to Morocco. He died shortly afterwards of cancer. The Arthur T Weed lodge Nº 59 was created on 11th October 1958 in honor of this brother.
In 1963, the American bases in Morocco were nationalized by the Moroccan authorities and the lodges had to stop their work. This lodge, as a travelling military lodge, had its first meeting at the Castellana Hilton in Madrid on 9th January 1981. W.B. Peter Godwin was installed and the lodge started with ten brethren.
On 6th November 1982 the Grande Loge Nationale Française consecrated the Grand Lodge of Spain. In 1992 a number of the brethren of Arthur T Weed felt that, as they were living and working in Spain, it was time to join the Grand Lodge of Spain. Emulation Madrid Lodge Nº67 was formed on 25th November 1992 in conjunction with brethren from various Spanish lodges. It was decided that the language of the new lodge would be English just like its predecessor of the eighteenth century. R. W. Bro. Jose Antonio Bello, a Galician who had lived for many years in Venezuela was deeply involved in its constitution, and from his own pocket bought all the regalia needed for its working. He is responsible for the name of our Lodge, several name proposals had
been put forward, amonsgt other Discovery Lodge but his intention was to Emulate the workings of The Emulation Lodge of Improvement ritual in London. Subsequently the Grand Master of Spain, M. W. Bro. Luis Salat i Gusils authorised our Lodge to use the Emulation Ritual as aprouved by this Lodge in London.
This was quite an international group as the founding brethren came from eight different countries. M.W. Bro. Luis Salat i Gusils, Grand Master and his Deputy Grand Master Juan Crozet were made honorary members of the newly formed lodge. The Provincial Grand Master of Castile at the time of the consecration of the lodge was RW Jacob Pariente.
The founding brethren from Spanish lodges were:
R. W. Bro Jose Antonio Bello, R.W. Bro. Fernando Ribes Garcia, R. W. Rafael Cannetti ,Bro. Luis Racionero Grau, M.W.Bro. Tomas Sarobe Piñeiro, R.W.Bro. Juan Aime Crozet, R.W. Bro.Alvaro Pineda de Castro, Bro. Alfredo Shulmers, W.Bro. Miguel A.Ballesteros, W.Bro. Jesus Calzadilla Daguerre
V.W.Bro. Keith R. Chapman, V.W.Bro. John D. Gray, W.Bro. Vicente Rodriguez-Carro, Bro. Albion W. Land & Bro. Rafael Gene, Bro. Rafael Garcia Gonzalez
The founding brethren from Arthur T. Weed were:
V.W.Bro. Peter Godwin, W.Bro. Ronald Dunn, W.Bro. Alexander Grant, W.Bro. Michael Sigvaldason , V.W.Bro. Damian Delaney, W.Bro. James Dodson, R.W.Bro. Gabriel Lopez & Bro. James Carroll.
The lodge temple in 1992 was situated in number 80 of Lopez de Hoyos Street, which was the address of the Provincial Grand Lodge of Castile. It was decided to have four meetings per year on the first Friday of February, May, September and November. The lodge had many founding members but many of these were from other lodges and returned to them. This left the brethren of Emulation with the problem that has accompanied them to this day, numbers. The Provincial Grand Lodge moved to a much bigger temple in 1997 situated in number six of Juan Ramon Jimenez Street and, of course, so did Emulation 67.
A standard was designed by M. W. Bro. Thomas Sarobe, Past Grand Master and member of the Lodge to draw attention to the international aspects of the lodge and the fact a Grand Master was part of it. This banner shows the insignia and navy blue color of his high rank and the national colors of five countries to reflect the nationalities of the brethren in the lodge at that time. The UK, the USA, Ireland, Canada and Spain, much as he tried, one of the brethren, a founder member, could not find his country, Colombia, in which he was initiated at the Lodge which his father, M. W. Bro Miguel López Pumarejo, Past Grand Master of the Grand Lodge of Colombia had founded. As an anecdote we would like to point out the premises of this Grand Lodge are located in the past residence of his eldest brother, Bro. Alfonso, Past President of the Republic. However, by that time the standard had been manufactured and Colombian flag was not included, too late, R.W. Bro. Gabriel and for W. Bro. Andres, initiated, passed, and raised by his eldest brother in this Lodge!
In the year 2000 members of our lodge visited two foreign lodges. W. Bro Andres López went to Strasburg to work and joined the Karpophoros Nº1187 Lodge. There was an exchange of visits to and from each lodge. Likewise our V.W. Bro. Alex Grant, the Grand Representative of Castile, along with other brethren attended the 400th Anniversary of the Lodge of Edinburgh Mary´s Chapel No. 1 in Scotland.
As stated before, one of the recurring problems of the lodge was, and has always been, numbers. During the first decade of the new century the lodge numbers never rose above twenty and at times were very much lower. This problem has not been solved to this day. At the time of writing we have fifteen members. However, the lack of numbers has been alleviated to a certain degree by the much appreciated help of visitors from other lodges within Spain and two foreign lodges in particular.
St. Barnabas Lodge Nº 3771 from England is one of these lodges. In the past it had problems with lack of brethren and was about to tender its Charter when it obtained the support of many brethren from Spain including one of our members, the brother from the missing country from our standard, R.W. Bro. Gabriel Lopez. He took the Chair of this lodge in 2012 and organized a Ladies night in Madrid the following year to which 66 visitors came from the UK. It was then decided to change the Emulation timetable to facilitate the visit of foreign lodges to our meetings. This change has proved very successful indeed. A relationship was established which culminated this year, 2017, with both lodges voting for our Twining.
Another lodge from abroad which has helped us enormously with our problem of members is the Kilsyth St. John Nº 39 from Scotland which last year celebrated its 275th constitution anniversary. Our lately departed and dearly loved V.W. Bro. Alex Grant became a member of this lodge along with other brethren and attended lodge there whenever possible. Kilsyth Lodge had their Centenary Re-dedication Ceremony in March 2001 and brethren from our lodge visited and were looked after in a very brotherly fashion indeed. The Depute Master at that time was a Mason who was to become a frequent and much appreciated visitor to our lodge, R.W. Bro. Neil Mitchell. He along with fellow members of his lodge has helped us over the years with their presence and assistance in our ceremonies. In fact, last year they demonstrated a very beautiful ceremony with a lot of movement! We are looking forward to seeing them again at our 25th Anniversary Lodge Celebration in November.
There have been various other visits to and from lodges both in Spain and abroad throughout the two decades of this century. In 2008 for example we held a meeting in Erandio Bilbao with the Tolerancia No.16 Lodge where we were accompanied by the Campbell Lodge of Instruction whose mebers are very active as members of the Emulation Lodge of in London. Likewise later in the same year we visited Kilsyth St. John Nº 39 accompanied by brethren from a Catalan Lodge, Fidelitas No 5.
It is worth mentioning that as a hommage to the name of our Lodge, several brethren have been members of the Emulation Lodge of Improvement which meets every Friday at 6.15pm at Freemasons Hall in London since 1823 and in particular to the strong effort made by past a Past Master of our Lodge, W. Bro. Andrés López who in two occasions missed by a mere two and three objections the famous Silver Match Box at two demonstrations at the ELOI in two different degrees, a strong and very appreciated effort made by a spanish speaking brother for an achievment reserved to a very few of delivering the ritual with any mistakes in either words or actions.
Our lodge has always been active in the District Grand Lodge of Castile and in the Grand Lodge of Spain. Over the years we have had Brethren who have held high offices in both. In Grand Lodge we have had a Grand Master, a Deputy Grand Master, Grand Treasurers and more. Long may it continue!
And finally, to remind us all of the reason of the existence of Emulation Madrid 67, to demand a high standard of behavior both in and out of the Temple and to have but one aim in view "to please each other and unite in the grand design of being happy and communicating happiness" in addition, of course, to the three grand principles on which our order is founded:
Brotherly Love – The establishment of friendships. Relief – The assistance given to our charities. Truth – The dissemination of Masonic knowledge.
All Hail to the G.A.O.T.U.
To be continued… (over and over the centuries.)
R. W. Bro. Damian Delaney, PGSB, Madrid, October 2017.